Vol. 8 No. 2 (2020)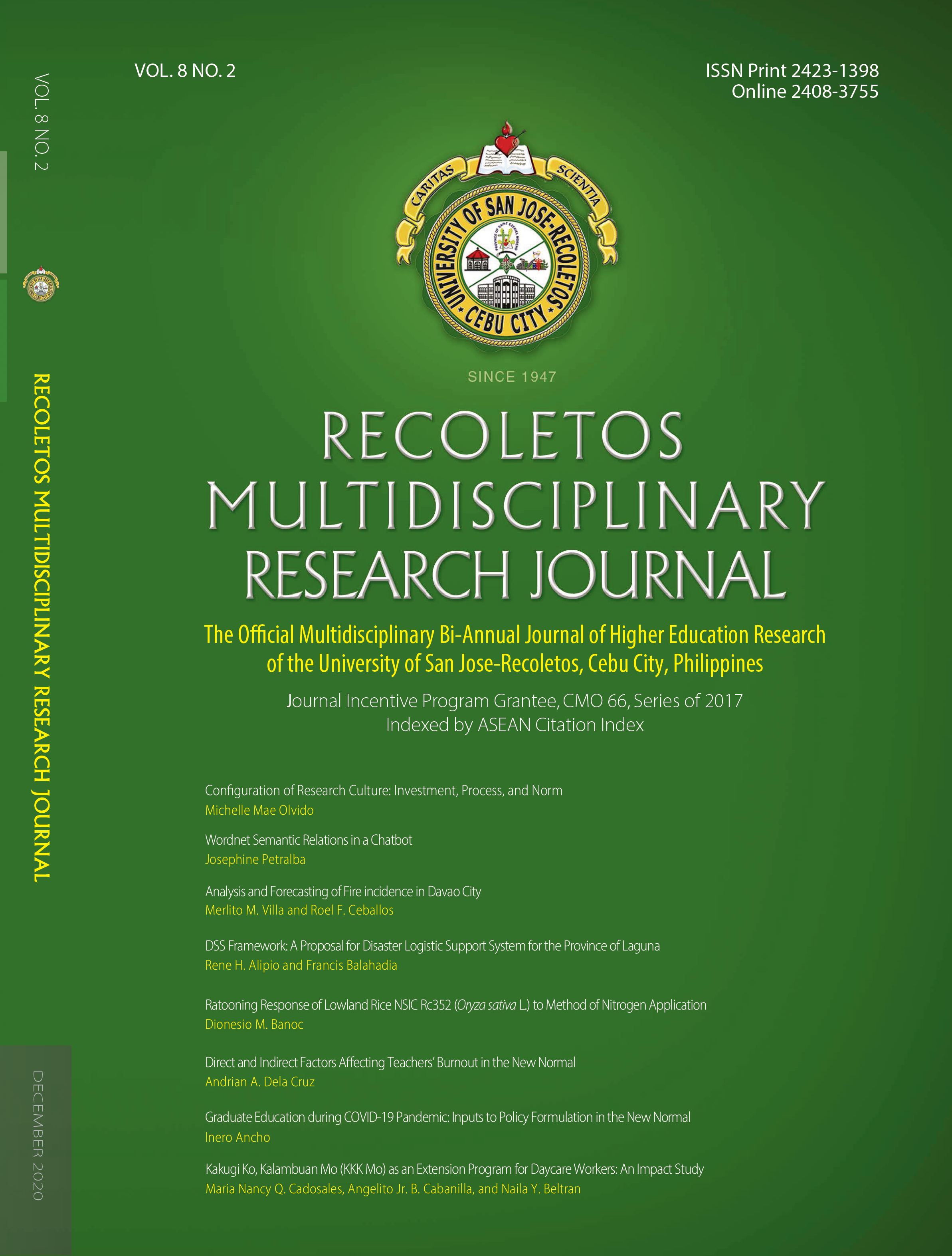 Wishing you a Blissful New Year!
The year 2020 was challenging for everyone. Yet, it brought lessons, growth, and new ways of doing things.
In this issue of the RMRJ, we will look into the importance of research in the Configuration of Research Culture: Investment, Process, and Norm.
Innovations and looking at things with fresh perspectives will be essayed in the
Analysis and Forecasting of Fire Incidence in Davao City, Wordnet Semantic Relations in a Chatbot, Ratooning Response of Lowland Rice NSIC Rc352 (Oryza sativa L.) to Method of Nitrogen Application, DSS Framework: A proposal for a Disaster Logistic Support System for the Province of Laguna, and Kakugi Ko, Kalambuan Mo (KKK Mo) as an Extension Program for Daycare Workers: An Impact Study.
The realities that we experienced during this pandemic will also be investigated in the Graduate Education during COVID-19 Pandemic: Inputs to Policy Formulation in the New Normal and the Direct and Indirect Effects to Teachers' Burnout in the New Normal.
The year ahead might be uncertain, but the flicker of hope in each one of us must be kept alive. May RMRJ be an instrument of fanning that hope in individuals and academic communities it reached.
Professor NILO T. BUGTAI, Ph.D. (Loughborough University, England U.K.)
Director, Institute of Biomedical Engineering and Health Technologies (IBEHT)
Full Professor of Manufacturing Engineering and Management (MEM)
Technical Expert, DLSU - Innovation and Technology Office (DITO)
De La Salle University - John Gokongwei Jr. College of Engineering
2401 Taft Avenue, Malate, Manila 0922, Philippines
Phone: +(632) 8524-4611 Local 239 | 244
Email: nilo.bugtai@dlsu.edu.ph | n.bugtai@yahoo.com