Classical-Romantic Compositions: A Musical Variation Analysis
Keywords:
classical music, fractal dimension, musical score, musical composition
Abstract
This study looks into the patterns found in the musical scores of selected composers in the Classical-Romantic period. Random masterpieces were taken from six (6) composers with five (5) musical compositions from each. The image of each musical score was analyzed to obtain its fractal dimension, with the idea of identifying a signature style of music for each composer. Findings revealed that there was consistency with less variance of the fractal dimensions of musical scores for each composer. Furthermore, the minimal disparity of the fractal dimensions across composers, discloses the common influence of Classical-Romantic era where pieces during this period are mostly homophonic, and capitalize on melody and accompaniment.
References
Almirol, C., Lapinig, V., Sabandal, MN. (2013). Classification of Marine Seagrasses by Leaf Fractal Dimensions Analysis.

Asafyev, B. ,(1947) "The Great Russian Composer. In Russian Symphony: Thought about Tchaikovsky. New York: The Philosophical Library.

Bolstein, L. (1998). "Music as the Language of Psychological Realm".In Tchaikovsky and His World. New York. Princeton University Press.

Brown, D. (2007). Tchaikovsky: The Man and His Music: New York. Pegasus Books.

Brown, D. (1983). Tchaikovsky: The Crisis Years 1874-1878. New York. W.W. Norton.

Brown, D. (1986). Tchaikovsky: The Early Years 1840-1874. New York. W.W. Norton.

Brown, D. (1991). Tchaikovsky: The Years of Wandering 1878-1885. New York. W.W. Norton.

Grout, D. (1973). A History of Western Music.W.W. Norton

Grout, D. J., Palisca, C. (1988). A History of Western Music. Norton

Han Ju, Jian-XinXu, Van Dongen A. (2010).Classification of Musical Styles Using Liquid State Machines.

History of Music-Classical Period.(2013). OracleThinkQuest.

Hsu, K J. & Hsu, A. 1990. Fractal Geometry of Music

Johnson, J. (2002). Who Needs Classical Music?: cultural choice and musical value.Oxford University Press.

Kennedy, M. ed. (2006)."Classical", The Oxford Concise Dictionary of Music,, Musical Periods. (1995-2013). www.classical.net

Pestana, P. &Pestana, D. (2011).Philip Glass' Façade- A Case Study on the Complexity of Music Scores.

Randel, D. (1999). The Harvard Concise Dictionary of Music and Musicians. Cambridge, Massachusetss. Harvard University Press.

Salamon, J., Rocha, B., Gomez., E. (2012). Musical Genre Classification Melody Features Extracted From Polyphonic Music Signals

Swafford, J. (1992). The Vintage Guide to Classical Music. New York: Vintage Books.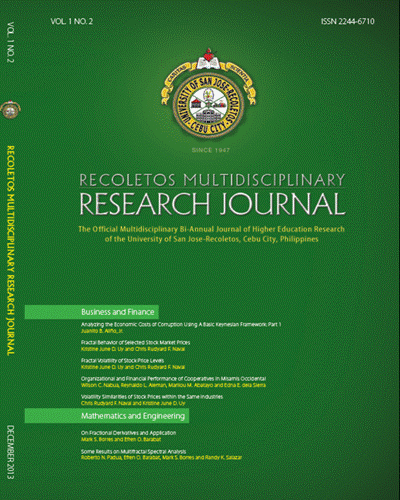 Downloads
How to Cite
Avenido, J. M., Susada, J. S., & Barabat, E. O. (2013). Classical-Romantic Compositions: A Musical Variation Analysis. Recoletos Multidisciplinary Research Journal, 1(2). https://doi.org/10.32871/rmrj1301.02.13