A Philosophical Reinterpretation of Philippine History in the Perspective of Friedrich Nietzsche
Keywords:
Philippine history, Philosophical Reinterpretation, Friedrich Nietzsche's philosophy
Abstract
The study explained and interpreted Philippine history using the main themes of
Friedrich Nietzsche's philosophy such as, Will to Power, the Uebermensch/superman, the Transvaluation of values, Master and Slave morality, Eternal recurrence, and tragedy. Further, this study employed qualitative interpretive analysis as method. Nietzsche's philosophy emphasizes the role of the Will over reason as the most fundamental principle of human existence. The Will which he refers to as Will to Power is the impetus behind the
struggle for power, conquest, war, revolt, revolution and freedom. Similarly, the will to power gives the Filipinos the hope and courage to go through pain, suffering and despair. The assertion of Will to Power has produced the great men and women behind events of Philippine history. These supermen are responsible for the creation or the introduction of new values system, of reform and even of revolution (trans-valuation of values). The event of Philippine history follows a pattern of recurrence, the recurrence of colonization, war,
independence, pain, and corruption. The study also found out that Philippine history in general is a tragedy; it is a struggle against suffering and despair.
References
Books
Agoncillo, Teodoro. Short History of the Philippines. New York: New York Publishing House, Inc.,1969.

Agoncillo, Teodoro. History of the Filipino People. Manila: Garotech Publication, 1973.

Agoncillo, Teodoro. The Revolt of the Masses: The Story of Bonifacio and the Katipunan.Manila: Garotech Publications, 1956.

Arcilla, Jose.S. S.J. An Introduction to Philippine History. Manila: Ateneo de Manila University Press,1998.

Collingwood, Robin George. The Idea of History. Oxford: Clarendon Press, 1946.

Corpus, Ronal M. and Lorna V. Wy. Time Travel: a Glimpse to Philippine History. Manila: Mindshapers Co., Inc., 2008.

De la Costa, Horacio SJ. Readings in Philippine History. Makati: Bookmark, Inc., 1992.

Duka, Cecilio D. The Struggle for Freedom: Textbook in Philippine History. Manila: Rex Bookstore, 2008.

Dupre, Louis. Marx Social Critique of Culture. New Haven: Yale University Press, 1983.

Garcia, Carlito D. Philippine History and Government for College Students. Mandaluyong City: Books atbp, Publishing Corp., 2010.

Halili, Maria Christine N. Philippine History. Quezon City: Rex Book Store, Inc., 2010.

Nietzsche, Friedrich. The Will to Power. (Trans. Walter Kaufmann) New York: Vintage Books, 1968.

Nietzsche, Friedrich. Use and Abuse of History.(Trans. Adrian Collins) New York: Bobbs-Merill Co.,Inc., 1957.

Nietzsche, Friedrich. The Birth of Tragedy. (Trans Walter Kaufmann) New York: Random House, 1967.

McDaniel, Stanley.V. The Major Works of Nietzsche. New York: Monarch Press, Inc, 1965.

Pickard, Hugh Rayment. Philosophy of History: From Enlightenment to Post Modernity. New York: Cornell University Press, 1995.

Tan, Samuel K. The Filipino-American War. (1899-1913). Manila: University of the Philippines Press, 2002.

Turot, Henri et al. Emilio Aguinaldo and the Filipino Martyrs. Manila: Trademark Publishing. Corporation, 1998.

Wilcox, John. Truth and Value in Nietzsche. New York: University of Michigan Press, 1974.

Zaide, Sonia. The Philippines: A Unique Nation. Quezon City: All Nations Publishing Co., Inc, 1994.

Zaide, Gregorio. The Pageant of Philippine History. Manila, 1979.

Unpublished Material
Lagura, Florencio SVD. "Dynamic Metaphysics of Nietzsche" Cebu: University of San. Carlos, 2000.

Internet Source
Nietzsche, Freidrich. "Belief in the Ego" Will to Power Book III. Retrieved on Nov. 6, 2013 available at <Nietzsche.holtof.com>

Spengler, Oswald. "Decline of the West" Trans. Arthur Helps. Retrieved on October 14, 2011 available at <http: //www.duke.edu/~aparks/Spengler.html.>

Toynbee, Arnold. Christianity and Civilization. Retrieved on October 14, 2011 available<http://www.myriobiblos.gr/texts/english/toynbee.html>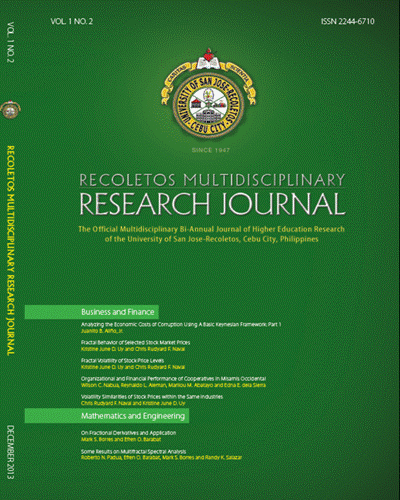 Downloads
How to Cite
Pajares, G. G. (2013). A Philosophical Reinterpretation of Philippine History in the Perspective of Friedrich Nietzsche. Recoletos Multidisciplinary Research Journal, 1(2). https://doi.org/10.32871/rmrj1301.02.22